Railroad System
In the United States, railways are often used for transporting raw materials, and it is highly possible to reduce transportation costs compared to other modes of transportation if you use the railway system effectively.
Railway System in the United States
There are many railway companies in the United States, and they are divided into three categories by sales. The Class I category has the highest amount of sales. Currently, 7 railway companies have this designation, and those companies own the main railroads that connect most of the country.
Railway companies east of Mississippi

 1. CSX Transportation
 2. Norfolk Southern Railway

Railway companies west of Mississippi

 3. BNSF Railway
 4. Union Pacific Railroad
 5. Kansas City Southern Railway

Canadian railway companies operating in the U.S.

 6. Canadian National Railway
 7. Canadian Pacific Railway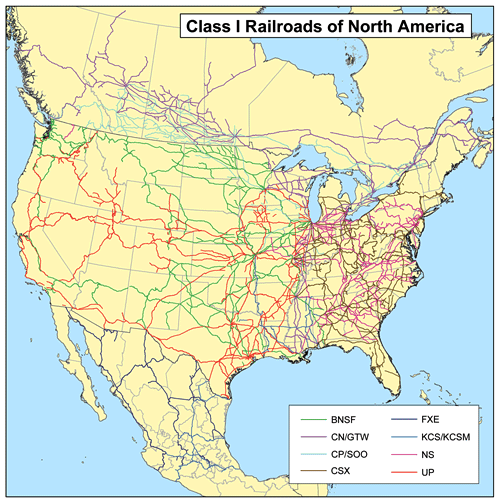 In each area, there are numerous mid-size and smaller size railway companies categorized as Class II and Class III. Class III railways are also called shortlines and they have limited transportation services. Lists of shortlines available in each region can be found at the following website: http://www.aslrra.org/our_members/Railroad_Members/
Large scale industrial parks, or those owned by Class I railway companies sometimes have Class I railroads brought in to the industrial park. However, these railroads are generally shortline railroads, and, unless your destination is relatively close, shipments normally have to transfer between multiple railway companies. Especially when products are transported out of a state, a Class I railway will most likely have to be combined with a Class II or Class III railway to complete transportation.
Site Selection TIPS Concerning Railways
1) Railway companies determine the frequency of shipping/receiving products, so even if a given industrial park has a railroad brought in, it won't guarantee use of the railway. It is very important to check with railway companies and industrial parks in advance about the availability of their railways.
2) Along with the information above, check to see if the railroad can be physically brought in to the plant (Ex. Secure the radius required for the vehicles to safely turn.)
3) Some industrial parks advertise that "railroads will be available in the future," but you should still check to see how much progress has been actually made.
・ See Logistics TIPS for the details on Logistics.